The now-defunct FARC guerrillas held hundreds of troops and police officers captive in the late 1990s in order to press for an exchange for rebels who were detained. Their rank decided not only how long they would be held captive, but also when they would be released. The victims at the lowest rung took the brunt of the punishment after the kidnapping was over. Even now, they experience minimal institutional support, and they turn to the JEP for compensation.
---
"I hope they pay attention to us. We still have a lot to offer and are relatively young. After being held captive for so long, we lacked access to legal, psychological, and psychiatric counselling. Many of our colleagues retired without receiving any further assistance, while others experienced stigmatisation within the organisation. They abandoned us after turning their backs on us."
These heartfelt words come from Edilberto Cumbe Mesa, one of the policemen who was kidnapped by the 9th Front of the now defunct FARC guerrilla after the bloody takeover of the municipality of Cocorná (Antioquia) on the 3rd of November, 1998, when asked about the reparation he expects from the Special Jurisdiction for Peace (JEP).
Having endured brutal treatment for the 31 months of his captivity, he faced hundreds of challenges upon returning to freedom and starting a new life. He was one of the few privates in uniform who was able to return to the institution, but because he had been abducted, he was treated unfairly and was excluded, which added to the repercussions of his incarceration.
"When I returned, the situation had changed. When it comes to working with them, none of the commanders would take you into consideration. The guerrilla guy, they would say. They've probably brainwashed him, they also said. He is a saboteur. We were abandoned by the leadership, and the system decided to disregard us completely", remembers one ex-policeman, who spent 14 years donning his olive-green uniform.
Another difficulty was going to counselling to try to get over the horrific events that occurred during his kidnapping: "That was a concern for the commanders. When you would ask for permission to go to appointments, they would tell you that they didn't provide many authorizations and that you should look for a transfer elsewhere. They brought about the issue themselves."
And he regrets that the institution did not provide him with the greatest medical care available. He recounts that "on one occasion the psychiatrist reprimanded me because after two years of treatment she did not perceive any change from me; and she reprimanded me also because she had treated officers who had bombs thrown at them and the following year they were OK."
"I explained to her that I wasn't a car that they could take to a shop and get a spare part for and that my issue was psychological", he continues. "Even now, when I hear about kidnappings, I become nauseous; when I use the restroom, it reminds me of the times when they pointed a weapon at us as we tried to go relieve ourselves; I also can't eat lentils and spaghetti anymore because that food was the daily menu out there."
However, some former members of the uniformed services experienced a harsher outcome following their kidnapping. After medical boards found that they were unsuited for continued duty, many of them were let go from the police and army. They were sent home without receiving adequate medical attention, pensions, or compensation. To defend their rights, some had to appear in court.
Diego*, a volunteer soldier who was abducted after the guerrillas seized control of the El Billar military base in the Caquetá province, is one of them. "I am thankful to a handful of lawyers who were knowledgeable about the law and cared about my situation, rather than the government or the armed forces, for the pension I have now, no thanks to the latter but the former. They helped me recover the things that had been stolen from me over a period of years by the institution after explaining to me how they had broken various rules."
The ex-serviceman was left on his own to manage the psychological effects of the kidnapping and to pay for his medication. "I had been overcoming my aversion to social interaction and conversation up until very recently. I bought a car to transport people, but I had to quit doing it because I became anxious while strangers travelled in the back seat because I was afraid that they would hurt me, which lead me to go home and take medicinal drops. I would become anxious and move to the other side of the sidewalk if someone followed me for more than a block", he claims.
He was finally brought to a new low by the treatment he experienced from the institution he had enthusiastically joined when he was released from captivity and was subsequently mistreated. He describes what happened as if he had just experienced it: "We were approached by a captain who said, 'You are in the path of the army!' at the Fourth Brigade's parade ground at the end of 2001. 'You should have died; it would have been better. The army has no idea what to do with you and would a thousand times rather you had vanished or come in wooden crates. Nobody wants you here; the Colombian army sees you as a threat.'"
"Do you think it is fair that, after being abducted for four years because of a terrible operation, a bad operation carried out by a commander of a mobile brigade, they tell you that it would have been better if they had brought you out of there dead?" he furiously asks.
The experiences of Diego and Edilberto are comparable to dozens of soldiers and low-ranking police personnel who were victimised by the state after spending years in the hands of the FARC rebels harsh conditions. They hope that the double harm they have endured, by the guerrillas and the state accordingly, will ultimately result in a complete compensation for them, along with 191 other former members of these institutions who are certified as victims before the JEP.
Miscellaneous repairs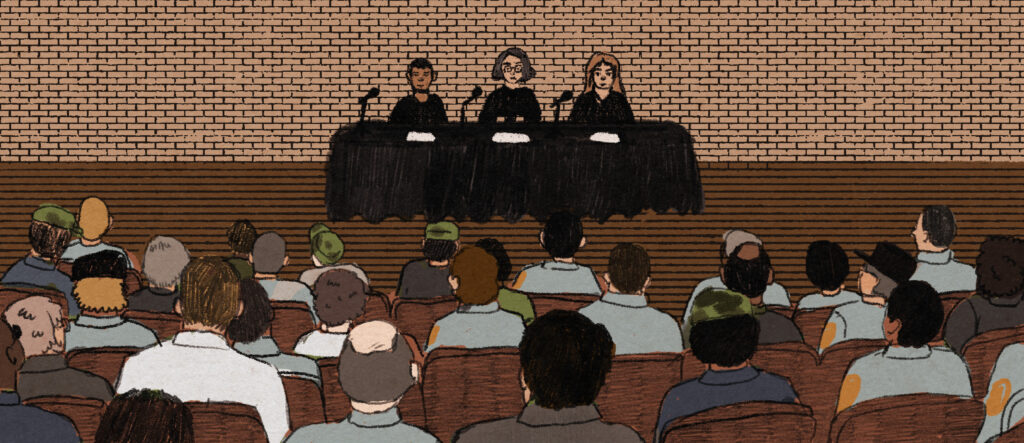 Despite the similarities in the circumstances of their capture and release, each victim has a unique idea of the reparations that should result from the sentences the JEP imposes on the ex-guerrillas who appear before it. Some people demand restitution, some want legal acknowledgement of their position, still others want to know why they were treated so horribly, and still more want to know where their former colleague are.
Ramiro*, a survivor of the seizure of the Patascoy military base, located between the borders of the departments of Nariño and Putumayo, is one of those demanding the fulfilment of the commitment to clarify the truth as a measure of symbolic reparation.
"I need to know what happened to my colleagues who were injured at the time of the attack. I stressed that in a hearing and asked them to tell us why they didn't let us take them and give them care. They just left them lying there", he stresses.
"We heard some shots as we were being kidnapped and were coming down from the base, so we presume that they killed our colleagues in a position of defencelessness", he continues. "We want the truth about this and that they explain to us their motivations for being so vile, enraged, and mocking of us. Where is their humanity?"
One of those seeking specialised medical assistance and accompaniment is Pedro*, a soldier who was kidnapped on August 30th, 1996, after the attack on the Las Delicias military base in Puerto Leguízamo, Putumayo.
"About two or three years after I was released, they gave me about six million pesos. From then on, nothing. No aid or medical services. We got out on our own and now they have abandoned us. I'm not just speaking for myself, but for my colleagues: there are sick people, some with cancer, several with hearing loss.
"They never provided another cent or a medical appointment, at least not for me", he continues. "We were initially evaluated, but we stopped the course of treatment. I was meant to have a specific percentage of disability based on this, but nothing has happened. They administered psychological examinations to us while we were in the army, but after that, nothing. There are 65 of us in that group who were kidnapped, and that describes us all."
Diego, who was told that it would have been better if he had died while kidnapped, claims that the army did not register him as a professional soldier while he was held captive and that he is still registered as a volunteer soldier. Because of this, he is not eligible for the pension rise granted by Decree 466, which was signed on March 29th, 2022, by Iván Duque, the Republic's President at the time.
"Since the establishment of the Professional Soldiers' School in 2000, everyone has been required to register in the system as a professional soldier. The generals and brigade commanders had a responsibility to register us as professional soldiers in the system because we were abducted and unable to exercise our rights. That is why I'm requesting assistance from the JEP to get my rights back", he claims.
He again reiterates his demand for restitution: "Why do I need a military ID? If that's all metal, why are they going to manufacture busts or give us medals? As people, we are now military forces' victims rather than kidnapped victims. We don't need ceremonies or honours; we need them to provide us fundamental solutions. All we ask of them is that they obey the law and refrain from victimising us again. Today, the Military Forces, rather than the FARC, regular criminals, the Gulf Clan, or other insurgents, are victimising us once again by excluding our names from the list to receive the advantages of professional troops."
However, Jorge*, another person taken hostage during the capture of Patascoy, also requests medical assistance for himself and his colleagues since, upon their release, they had anticipated that their tragedy would be over and that they would be able to continue working for the government. Contrarily, "we came out of the kidnapping situation, and they provided us psychological counselling for a year and many of us were tossed out the back door with psychiatric problems. They didn't settle the situation and left us on our own with a lot of difficulties."
After being released from captivity, soldiers and police officers experienced secondary victimisation, according to Diana Roa, a CCJ psychosocial professional who supports the Case 01 victims. She says this is because "they feel abandoned by the state for not providing the necessary attention and basic assistance, nor an effective response for them to integrate back into society after experiencing a trauma such as the one they experienced."
"Although they received rapid attention, over time it was continually reduced," she elaborates. "Even though they had been diagnosed with post-traumatic stress disorder, which restricted their capacity to work and excluded them from the system, a number of the (unranked) police officers the CCJ was representing did not instantly get a full pension. They were not only discriminated against inside the facility, but also socially alienated as a result of their trauma, their exposure to terrifying events, and their need to take medication that occasionally isolates them."
Impact the on families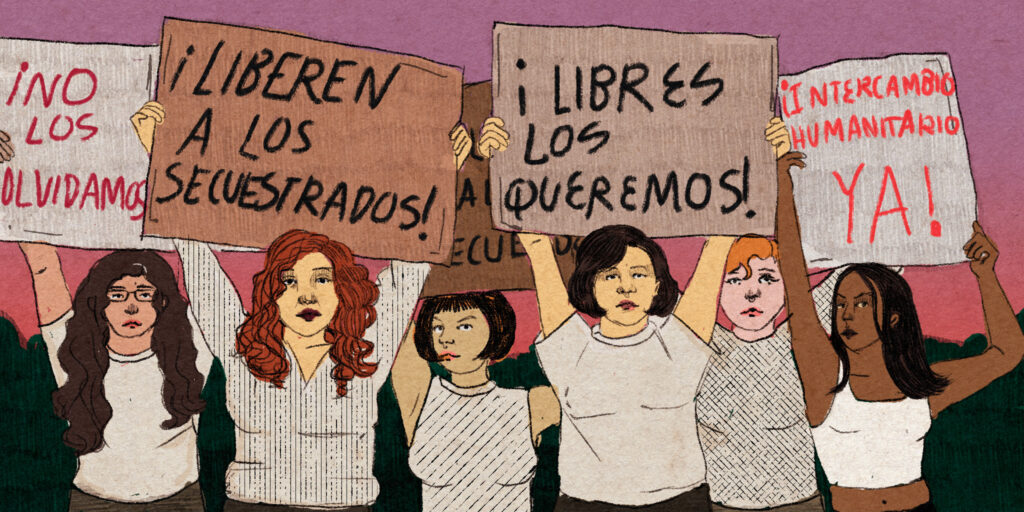 Uncertainty at home had a similar effect on the relatives and close friends of the troops and police officers whose lives were being devoured in the jungles. Hundreds of kilometres away, tranquillity and health were also taken by the kidnappers. Nonetheless, mothers and wives braved the danger to fight to save their loved ones from oblivion.
Gloria Cano, the spouse of the police officer taken hostage in the Cocorná kidnapping, is one of them. She and her 13-month-old daughter were forced to relocate from Granada, Antioquia, where the couple lived before Edilberto was taken to the jungle, where his life was ultimately transformed, to Medellín as a result of the kidnapping. She worked as a cleaning lady and any other job she could find to provide for her family up until the police started depositing 75% of her husband's pay (the remaining 25% was held by the institution to be given to him when he was released), at which point she became fully committed to fighting for his release.
"We got to work and started looking for someone who could set up his and the other hostages' release for us. Until we received confirmation of survival, we searched for priests and the Monsignor of the East, Flavio Calle, bishop of the Diocese of Sonsón, Rionegro. They allowed them, the kidnapped, to write to us 14 months later as a result of humanitarian deeds, so I knew he was still alive. They only provided us with survival evidence twice in almost three years. They were three months short of being kidnapped three years, and our family had to live in constant fear", she remembers.
Her struggle led her to join the Colombian Association of Relatives of Members of the Security Forces Held and Released by Guerrilla Groups (Asfamipaz), which organised marches and sit-ins in different cities of the country. Made up mostly of mothers and wives, Asfamipaz made contact with the FARC-EP in San Vicente del Caguán (Caquetá) to demand the release of their loved ones.
"We went in a caravan accompanied by journalists from El Colombiano. There we had an interview with 'Iván Ríos' and he decided to talk to three women who travelled from Medellín, including me. That trip was before the peace process with President Andrés Pastrana. I asked him to release them and I asked him that if they were supposedly fighting for the people, why were they being held hostage if they were also part of our people. He laughed and told us that the hostages were just employees and that we should ask the government what they were going to do about it", she explains.
During those years, 'Iván Ríos' was the commander of the José María Córdova Bloc, responsible for the actions perpetrated by the 9th Front, one of the guerrilla structures that carried out the most military attacks in eastern Antioquia.
Gloria thinks the FARC decided to release the soldiers and police officers they were keeping prisoner in Antioquia as a result of Asfamipaz's campaigning and public pressure. She also raises concerns about the state's inability to control their release and the scant assistance they received after returning to freedom.
"I believe that the state has abandoned us. Since several of the abducted had to fight for their living expenses, it should have paid more attention to what they were going to study, do, and guarantee them financial support. The Edilberto who came back was entirely distinct from the one who had gone. At first, it is a never-ending, excruciating fight. He didn't sleep, his hands were perspiring, and he was always startled. He persisted in keeping a radio in his ear. He was terrified and worried since he believed he would be taken away again at any moment", she emphasises.
Family effects of kidnapping have not received much attention. Many homes were destroyed as a result of the protracted incarceration or its repercussions on soldiers and police officers. Lack of psychosocial support for entire families was another reason for separation or divorce.
"The priority that the institutions identified was that the kidnapped person was severely traumatised, and many had to be hospitalised for one to two months before they could return to their normal lives with medication and psychiatric care. However, the family was never provided with the necessary support because they were not the main issue. Nobody had contemplated how the kidnapping would affect the families in the long run", Roa asserts.
Roa also refers to studies that categorise the consequences that these soldiers and policemen's captivity had on their families as almost abduction since, despite the fact that they were not imprisoned as their loved ones, their lives were suspended and focused around what might happen to them.
Francia*, on the other hand, personifies the pain and agony faced by the mothers with loved ones taken as hostages. She recalled crying and worrying about Pedro, one of the officer's taken hostage when the Las Delicias military base was taken over: "It felt like I was terminally ill and on my last days. I had neither sleep nor food. My heart rate was increasing. The whole ordeal made a serious attack on my health."
She nevertheless mustered the courage to fight for her son's freedom. In fact, she frequently travelled to Bogotá from the south of the nation to take part in protests and speak with the Ministry of Defense about her son's condition. "We assumed that we would never see him again because there was no inducement to release him. But deep inside, I always hoped to embrace him again."
Marta* was separated from her brother by the abduction even if he had regained his freedom. Additionally, he was one of the foot troops taken hostage during the takeover of Las Delicias. "I was ten years old at the time, and even though he was quickly freed—unlike other troops and police officers—the family split up because they fled the area out of terror. I nearly missed out on enjoying my sibling", she claims.
And she recalls that the news of the kidnapping and the time he was held captive was very hard for her parents: "Their blood pressure was rising, and they became unhealthy. The uncertainty of not knowing how he was doing was consuming them: my mother became very thin because she didn't eat or sleep."
Even though they were not chained or subjugated in the forest, she believes that her family and the families of the other hostages are also victims of the FARC's crimes. She also urges the JEP to assist in making up for the harm done to the soldiers and police officers who were under the Farc's control as well as their distant family members.
"For us, nothing has been acknowledged. Both victim status and compensations have not been acknowledged for us. Because the family was impacted, I believe we should receive compensation. Because I stopped sharing with my brother, I lost him in my situation", Marta bemoans.
The SJP and Case 01

After receiving numerous blows from the state, the JEP opened a window of opportunity more than 20 years after the shootings that ended the life plans of individuals who dedicated their childhood to the army and the police.
Its purpose is to punish crimes committed by former FARC members, security personnel, and other civilian third parties who voluntarily submit to this tribunal. It also has the authority to impose restorative justice measures to undo any harm that has been done. This transitional justice entity was established by the Peace Agreement signed with the former FARC. The case of major deprivations of liberty committed by the erstwhile FARC, commonly known as Case 01, is one of the macro-cases that have been opened.
Eight former members of the former FARC Secretariat have been charged in this macro-case by the Chamber for the Recognition of Truth, Responsibility and the Determination of Facts and Conduct (SRVR) with kidnapping and related crimes like homicide, torture, forced disappearance, sexual violence, forced displacement, and cruel, inhuman, and degrading treatment.
According to the three criminal patterns of FARC kidnappings identified during its investigation, these crimes were carried out "to finance the armed organisation, to force an exchange for imprisoned guerrillas, and to control the population of the territories by punishing them for various reasons", the SRVR reported. The police and military cases, which fit the second pattern, were categorised as hostage-taking.
According to the decree, the Central General Staff Plenary of the FARC agreed to kidnap police and military personnel in 1997 in order to force a guerilla prisoner swap. According to the paper, "The decision was primarily applied to officers and non-commissioned personnel, both army and police, arrested in various methods, but especially in armed efforts to take over military barracks and police stations."
The Chamber recalls that this goal was not accomplished because no national government consented to a humanitarian exchange in order to deny the FARC's status as a belligerent group. Instead, the majority of police officers and soldiers were freed through humanitarian negotiations, such as the so-called Los Pozos Agreement, which was signed in February 2001 by the FARC's then-leader, "Manuel Marulanda," and the Republic's president at the time, Andrés Pastrana Arango (1998-2002).
Officers and non-commissioned officers of both forces saw diverse outcomes: some were held captive for up to 14 years due to their rank; others who were unwell died in captivity; and a number of others are still unaccounted for. Sergeants Luis Alfonso Beltrán and Luis Arturo Arcia, both members of the National Army, were the last uniformed men to be held by the FARC. They were both unilaterally released in April 2012, as peace talks with President Juan Manuel Santos's (2010-2018) administration were beginning to take shape and the guerrillas were preparing to lay down their weapons.
The former FARC Secretariat members who are appearing before the SJP took part in the admission of responsibility hearing on June 21, 22, and 23 of this year, accepting the accusations made by the SRVR and pleading with the kidnapping victims for forgiveness. Additionally, some of them spoke up during the proceedings.
Lights and shadows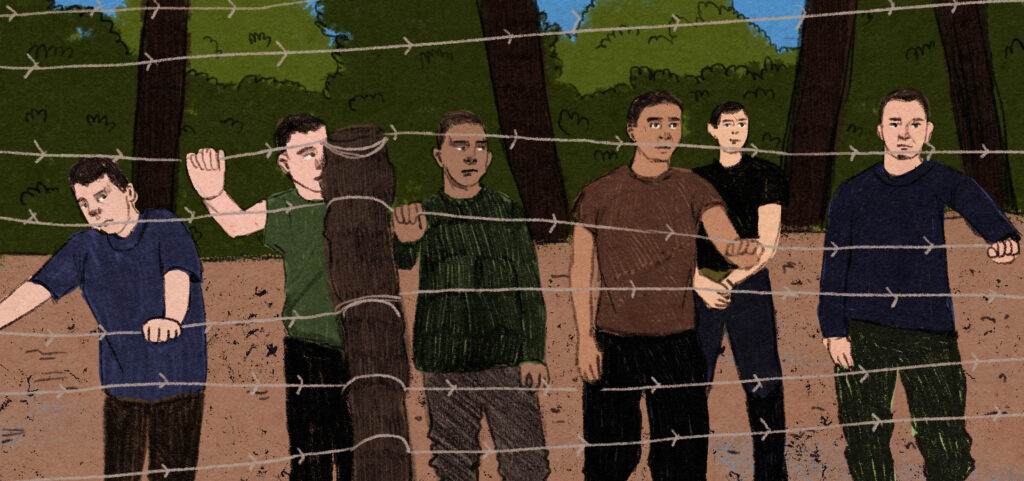 The Area of Accompaniment and Common Representation before the SJP of the Colombian Commission of Jurists (CCJ) is coordinated by Daniel Vargas, who emphasises the victim status that the military and police were given in Case 01 under this transitional justice system.
"With its accreditation, the SJP, unlike the Victims Law, acknowledges that the military and police officers were victims of the conflict regardless of whether they served as armed participants in it. It demonstrates that they were FARC victims", he makes clear. Additionally, he notes that acknowledgment in the regular judicial system is far more tenuous, so this is a step in the right direction.
However, there have also been some criticisms of this legal system. Because the spotlight and microphones of this Jurisdiction have been focused on senior military and police officials, other jurists who are familiar with Case 01—who have asked to keep their identities secret for security reasons—and some victims complain that the JEP has not detailed the events surrounding the FARC takeovers.
"Without having to contend with attorneys, the officers and NCOs were given the chance to return to the organisation, complete their careers, and receive their decent pension. They received homes, travelled abroad, and were dispatched to give speeches regarding the armed conflict. The JEP is talking more about them now, even though we were expelled through the back door before. We were all abducted and horribly mistreated. However, one may understand that others were held captive for a longer period. Why there is still a difference between us baffles me", according to one of the soldiers taken prisoner in the El Billar hostage situation.
The psychological specialist Roa notes that the SJP hasn't had a differentiated strategy to handle the problem of those who didn't have high ranks in relation to these distinctions. "The involvement of troops and patrol members has been minimal, and their early life experiences have not been treated differently. There is no explanation of what took place during the life cycle of, say, a young soldier or patrol member who was taken. All of them differ greatly from one another."
For this reason, she emphasises the need for a more thorough investigation of the potential harms they may have experienced on the physical, psychological, social, economic, and community levels if effective reparation is to be achieved for these victims, who were re-victimized some time after their release.
In this regard, one of the lawyers consulted suggests that the SRVR deal with these issues right away in order to include them in its Resolution of Conclusions, given that the Case 01 proceedings are progressing to the knowledge of the magistrates who make up the Peace Tribunal, who are responsible for determining the sanctions for the FARC participants and the formulas for reparation for the victims.
One step closer to reparations?

Judge Julieta Lemaitre Ripoll, the rapporteur of Case 01 and the person in charge of proposing the Resolution of Conclusions that the SRVR will present to the Peace Tribunal in the upcoming weeks, emphasises that this process has advanced because all the information pertaining to the kidnapping has been gathered in a single file, allowing them to construct more thorough contexts using the testimonies of the victims, statements made by former FARC members, judicial records, and reports from civil society.
The prosecutor's office had exhaustively documented the guerrilla takeovers, and there was more information on them than on the kidnappings, thus the investigative process was based on the findings of the traditional legal system, focused on the imprisonment and the circumstances surrounding it. When questioned about complaints that the SJP is not describing the guerilla takeovers, she emphasised that Case 01, which was just launched, will go into great detail about them.
The situation of the rank-and-file soldiers and police officers is one of Judge Lemaitre's main challenges in Case 01: "It is poignant that a large number of military and police who were abducted by the FARC have not been recognised as victims by the state, because they have a legal exclusion in the Victims Law for having been combatants, but also because the Ministry of Defence's programmes, even with the new Veterans Law, depend on an assessment of whether they have suffered any harm."
She explains that her work is only the entrance to the Jurisdiction and that she does not have the authority to give orders to other State entities, but she hopes that the Peace Tribunal "will take into account the circumstances within a case like that of Private Diego, who aspires to be recognised as a professional soldier and not a private in order to improve his pension" be taken into consideration in the sentences to be issued by the JEP.
"It is an extremely unpleasant position", she continues. "The mistreatment by the institutions is an addition to the facts, which are already horrific in and of themselves. This group of victims presents me with the toughest challenge, so I've given serious thought to requesting the Chamber to give me permission to seek the Court for measures on their behalf as they are war veterans. There are extremely effective programmes in other nations, but the JEP does not offer individual reparations; instead, it presents them as community issues, affecting groups, socioeconomic sectors, and regions. Reparations are not given one by one."
The SJP magistrates are up against an enormous struggle. The penalty they impose might aid in healing the wounds brought on by the state's indifference and the devastation brought on by the FARC's captivity. It remains to be seen if those who were kidnapped while carrying the nation's weapons and wearing its uniforms in order to defend it would be able to receive the complete recompense they have been waiting for thirty years.
* Name changed at the request of respondents to protect their identity. Details of cases were also omitted for the same purpose.
The Special Jurisdiction for Peace issued the first resolution of conclusions in Case 01 before the writing of this report was complete, referring the former FARC-EP secretariat to the Tribunal for Peace, which will then determine the proper punishments for the seven former members of this armed group, which may range from five to eight years. Reviewing this ruling and determining whether it protects the rights of those who were victims of kidnapping and other major crimes are the victims and the Colombian Commission of Jurists, who are acting as their representatives.